How to Protect Your Company
from Workforce Risk
Download this eBook to learn how data insights can help you better understand the changing risk profile of your people, and take the most appropriate mitigation steps to protect your people, customers, reputation, and brand.
Free eBook: Modernizing Workforce Risk Management with Continuous Insights
The rise of workforce risk is a serious challenge, which left unchecked can negatively impact your company's reputation – and bottom line.
One-time or periodic background checks and redactive self-reporting lead to blind spots that expose your organization to exponential risk.
Endera's latest eBook will give you a framework to start rethinking your company's changing risk profile and begin to understand the benefits your business can gain from continuous evaluation.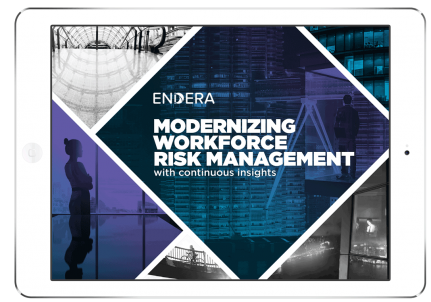 In this eBook, you'll learn:
The importance of utilizing relevant data and categorizing events to avoid costly false alarms

Understanding the challenges to extracting meaningful information for effective continuous evaluation

The differences between transaction data focus vs continuous insights focus

How the purpose-built Endera platform can help your company stay ahead of unmanaged workforce risk
© Copyright 2015-2018 Endera Systems, LLC. All rights reserved.